The School District's Dental Plan
Effective July 1, 2017, Cigna will be the District's Dental Plan Administrator. Please see the Cigna form below for instructions on how to find a dentist that participates in Cigna's network.
Your Cigna Dental Group Number is 3340868.
Please call Cigna at 1-800-345-4511 for any questions on our new dental plan.
Summary of your Cigna Dental Plan Coverage Amounts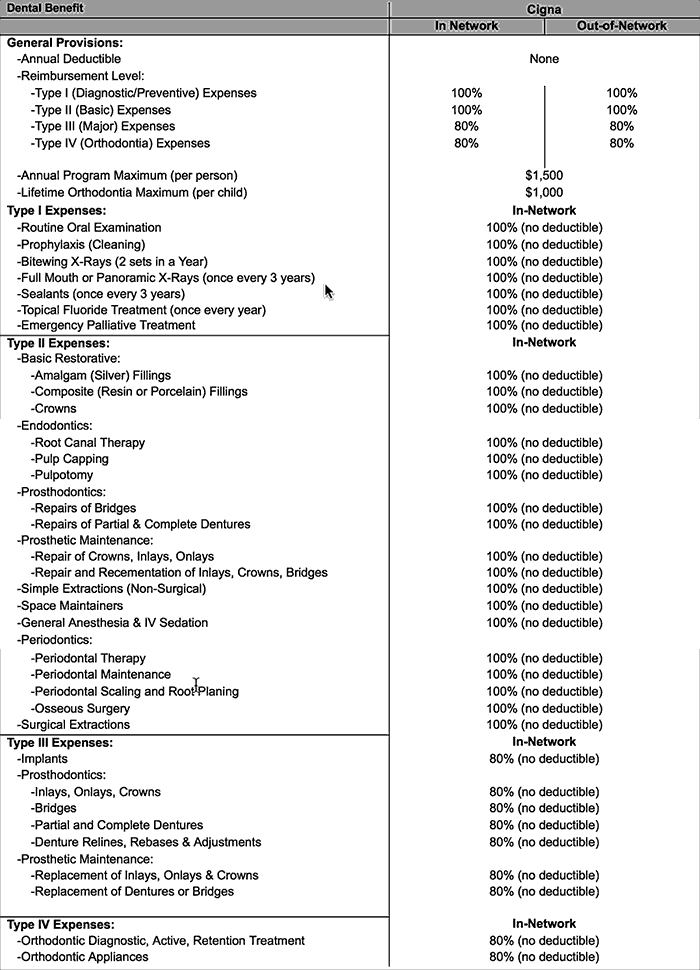 Routine, professional dental care is an important part of your family's health care. The School District's Dental Plan offers dental coverage through Cigna and covers a variety of preventive, basic, and major services.
The district's dental plan stresses preventive care to help you and your family avoid serious dental problems. The plan pays 100% of the covered cost (usual and customary charges) of preventive and basic services. It also pays 80% of the covered cost (usual and customary charges) of major services and orthodontia care. The maximum benefit you can receive under this plan each year is $1,500 per person, with the exception of orthodontia care which carries a separate $1,000 per person lifetime maximum.
Adult dependents can be covered through the end of the month they reach age 26.
The benefits year for dental runs from July 1 – June 30.
REMINDER: You must give your provider your Employee ID# with THREE LEADING ZEROES (example, if your Employee ID# is 987654, use 000987654) instead of your Social Security number.